Between the Middle Ages and the Renaissance, in the middle of the Italian peninsula, from Tuscany to the region Marche across Umbria – isn't maybe the landscape inspiring? – three are the mystics who became saints after a canonization process by the Church: Catherine of Siena, Clare of Assisi and Baptist of Camerino. They were women who emerged from the silence they were bound: future noble or bourgeois wives at courts or shops, they chose to follow their feelings, and spent their lives in spiritual dialogue with Christ, they were controlled by the Catholic authorities who doubted their deeds. Catherine's family belonged to the small bourgeoisie of Siena's Contrada dell'Oca, she began as a teenager – just like Clare and Baptist who were rich and nobles instead – to have visions, and pass through the real world to swallow into the spiritual and interior world, quitting food and sleep. Baptist wrote the "spiritual pain of Christ" while Catherine used "the precious blood of Christ", i.e. cinnabar ink, to express her dialogues "nascondendomi nelle piaghe di Cristo crocifixo bagnarommi nel sangue suo" through the support of many biographers, One being  Tommaso Caffarini who admits that she could write herself since ne saw her writing fluently on paper. Clare of Assisi will dictate the rules for her sisters, and she is the first woman to does it, among which the most important is that of not owning any property: since she was a child she was used to seeing her family craving for power and money, then she realizes that renouncing both is a guarantee of enjoyment and domination of one's inner consciousness.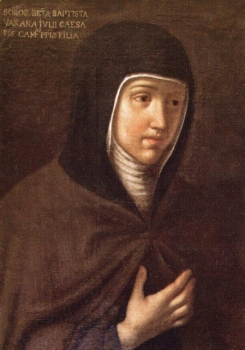 Battista da Varano di Camerino
Baptist da Varano, of the powerful family of the lords of Camerino, challenged her father Giulio Cesare and followed the sermons of the blessed Pietro da Mogliano leading to religious life, which she initially detested.
Baptist was a scholar, she was used to court life where arts and letters were cultivated, she speaks Latin and knows how to ride, but at a certain point she decides to consecrate her life to Christ and to write for his glory.
Writing becomes for those three women the means to affirm oneself and get out of the predestined role – to offer that love to Jesus free from sin, "that thing that is not there" Catherine affirms, "is only lack of love, and it is only that the true sin that is accomplished", writing is the only way "con cui sfogare il cuore, affinché non scoppi" (Catherine of Siena).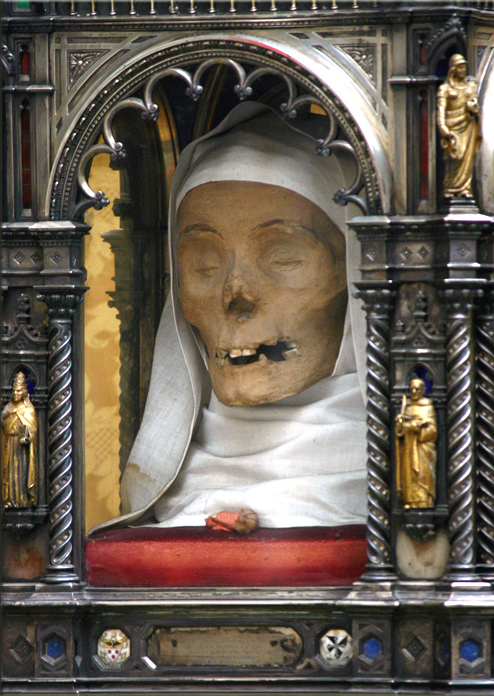 Caterina da Siena. San Domenico Church, Siena
They were subversive women so to say, out of the schemes, strong women indeed who could talk to kings and popes, Catherine becomes spokesperson for the Roman Church in opposition to the Church of Avignone, considered by her as Antichrist. Clare in her vision of absolute poorness for her Order an alter ego to Franciscan order, she was continuously in touch and dialogue, even arguing, with the Pope. Baptist funded a monastery in Camerino then in San Severino and finally in Fermo. Her monasteries were also cultural centres where you could probably study music, read and paint. They were three outsiders of a kind, their lives should be learned way beyond their religious propaganda, women who wrote in the vulgar Italian language so that everyone could understand them, they chose to give their life to the Holy spirit to heighten their material body with rare cleverness and with available means, in some way the passion of Christ becomes alchemic opus for the salvation of the soul and for their material existence across the world.
Tags:
Camilla Battista Varano da Camerino
,
Chiara from Assisi
,
Santa Caterina da Siena